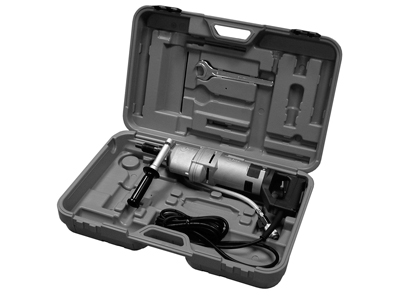 TALPA TOL-A1-EL 2-Speed Hand Held Core Drill
Part #TALPA TOL-A1-EL, $1,013.75

2-hp, 15amp, 120volt motor with safety clutch. Idle RPM: 1180 and 2150; load RPM: 930 and 1700. All purpose drill comes with carrying case and water kit. Features "smart electronics" for optimum performance and reliability. 1-1/4"-7 Male shaft and 5/8"-11 Female shaft, with all-male 5/8"-11 adapter. Wet drilling applications from 1 to 4-inches; Dry applications from 2 to 6-inch bits.